We Design & Print Tons of T-Shirts
What's Baked T's?
Baked T's is a unique t-shirt print shop located in the historic Delmar Loop in St. Louis, Missouri. Debbie, our Owner and Founder, had always dreamed of opening her own store that was fun and unique. After much planning, Baked T's opened it's doors to the public in early 2010 and hasn't slowed down since.
No quantity limitations.
Just Boundless Creativity.
With the latest in printing technology and a team of graphic design experts, Baked T's brings you a truly unique shopping experience. Choose from hundreds of customizable apparel and gift items in a variety of top brands, colors and sizes. Browse our thousands of pre-made designs or make your own unique design with one of our in-house graphic designers. Or, create-your-own and bring it in with you! Select as many colors as you would like and say anything you want with any of our thousands of different fonts. Print on the front, back, pocket or sleeve!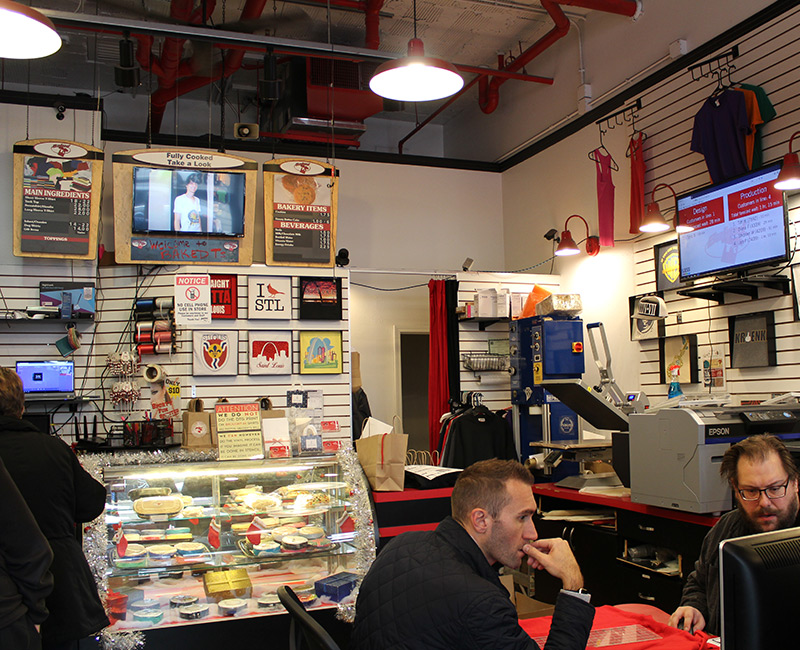 The Best T-Shirt Shop in St. Louis!
Baked T's uses state-of-the-art printing technology to personalize shirts and other apparel, as well as various gift items such as cell phone cases, water bottles, mugs, jewelry and so much more! We offer several cutting-edge processes including…
This process uses a specialized large format printer to apply water-based inks directly to a garment, where the fibers quickly absorb the liquid, resulting in an impressive, highly-detailed design!
This process involves a machine that is used to cut out custom designs and text in pieces of colored vinyl. The vinyl comes in many colors including neon, metallic, glitter, holographic and patterned vinyl. A heat press is then used to transfer each vinyl color onto the end product.
This process involves creating a stencil (also known as a screen) and then using it to apply layers of ink to a surface. This option is a lower cost alternative for orders of 25 shirts or more.
This process involves the use of a digital printer that produces images on sublimation transfer paper with sublimation ink. The paper is placed into a heat press with the product and exposed to high temps. The ink and transfer material turn from solid to gas. Once in a gas state, they permeate the fibers of the material.
This process uses our DTG printer to print on a specialized material that can then be transferred to a garment.  The result is a highly detailed vibrant print on cotton, nylon, treated leather, polyester, 50/50 blends and more.
This process involves creating a digitized file that can be read by the embroidery machine. The items are loaded into a hoop then placed in the machine to be stitched. There is a minimum order size of 12 items and pricing is based on stitch count as well as the cost of digitizing.
Who Shops Baked T's?
Whether you have a family reunion, sports team or need some corporate sales incentive gifts, Baked T's has you covered. Get exactly what you want… with no minimum quantities!
Giving Back
At Baked T's, we believe that it is our responsibility to give back to the community that supports us. We support our community through charitable giving and by doing whatever we can to help preserve the environment.
Throughout the year we will select various charities to support, in which a portion of our sales are donated during that time.
We have made every attempt to source our items and equipment from other local businesses. Most of our fixtures were purchased and manufactured in Missouri and installed by local resources. Much of our equipment is also produced in the area including our pre-treatment equipment and compression machine. We also source many of our standard supplies from local companies.
Since the beginning, we have made many decisions based on what is best for the environment. Everything from the inks we use to the packaging and even the creation of our store have been designed to maximize the preservation of the environment.
In our printing process all inks are sealed and contain no toxic materials which eliminates the possibility of anything toxic releasing into the air. All designs are produced and stored on computers, eliminating the need to produce a screen for each color. We have the ability deliver our shirts compressed which allows us to use smaller packages made from recycled material. We also use energy efficient (LED) lighting in all of our fixtures. We even thought about the environment when we built out our space by using recycled materials in our custom made cabinets.